Three victims were rescued from their 80′ vessel when it caught fire on November 24, 2012, off the coast of Miami Beach.
Coast Guard and Miami-Dade Fire Rescue crews responded to the fire about a mile  off shore. The 80-foot motor yacht, Bliss, was engulfed in flames when the three  people aboard jumped into the water and were saved by Coast Guard crews.
The Miami Herald reports:
The Bliss caught fire at sea about 10 a.m., Petty Officer Sabrina Elgammal said.

Elgammal said the cause of the fire remains under investigation.
Also see the USCG Press Release: Click HERE
The Wilmington Fire Department unveils its new 71′ Metalcraft Fire Boat on September 19th.
The vessel – aptly named "The Firefighter" – was introduced at Tubman-Garrett Riverfront Park.

The $3.5 million vessel was bought with a Federal Emergency Management Port Security Grant, with additional funding from the Public Service Electric and Gas Co., Midstream Magellan Partners and Wilmington, according to a news release.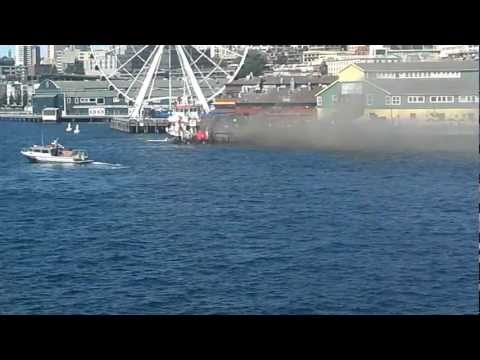 Video shows Seattle Fire Department's Leschi operating at a pier fire.
A fireboat was called in to help fight a fire under Pier 56 on the Seattle waterfront on Saturday afternoon.

The fire did not appear to impact operation of the Great Wheel, which is on the adjacent Pier 57.

Firefighters quickly got the fire under control.

There were no injuries.

It's not known if the pier's structure has been compromised.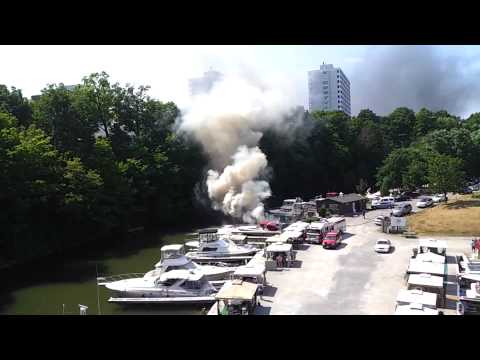 This video is from Oakville, Ontario, at a Marina in Lake Ontario.
Three people were taken to hospital after sustaining injuries when a boat  they were on exploded Saturday afternoon in the Oakville Harbour.

Sgt. Paul Craig from the Halton Police said a boat carrying three passengers  on board exploded in Lake Ontario around 3:30 p.m.

At the time the boat was docked at the Oakville Power Boat Club.

An air ambulance was called to the scene to transport a 53-year-old female  with serious injuries to Hamilton General Hospital.
Fire boats from Baltimore City, Maryland respond to a boat fire at the Anchorage Marina in Southeast Baltimore.
WBAL-TV Reports:

No injuries were reported  in a boat fire at the Anchorage Marina.

Baltimore City fire  spokesman Capt. Kevin Cartwright said it happened on the 2500 block of Boston  Street in southwest Baltimore at 3:15 p.m. Wednesday.

Crews were able to isolate  the vessel to avoid extension to other watercraft, Cartwright said.
For additional photos, visit Recon 2′s website by clicking HERE.
A three-alarm fire erupted at the South Street Seaport on Pier 17 in Manhattan, New York City. Multiple marine companies as well as land units teamed up to battle this blaze.
Marc Santora, New York Times

The three-alarm fire began shortly before 4 p.m. and was concentrated around the pier, according to the police and fire officials. It seemed to be under control by 5 p.m. and there were no immediate reports of injuries, the officials said.

James Long, a Fire Department spokesman, said in a telephone call with reporters that 33 units and 140 firefighters responded to a call at 3:52 p.m. reporting a fire at Pier 17. It took about two hours to bring the fire fully under control, he said.

The department used water hoses stretched from trucks, and department vessels streaming water from the East River to fight the flames.
Photo from Tugster
This fire called three of the FDNY's newest Fire Boats to action.
 Photo: AP Photo/Mary Altaffer via Staten Island Advance